a.s.r. elevates customer experience
a.s.r., a large, leading insurer in the Netherlands, has taken the decision to bring their Loyalis AOV portfolio into Keylane SaaS. a.s.r. is committed to elevating their customer's experience, optimising their business operations and becoming future ready.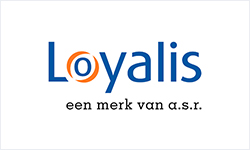 a.s.r's income protection products went live on Keylane SaaS as of the 8th of May. This will enable a.s.r. to focus on their core business and deliver flexible and optimum income protection products to their customers under the Loyalis brand.
Keylane SaaS solutions offer many advantages such as reliability, scalability and future-ready platforms that meet the highest safety requirements and deliver legislation compliance.
"a.s.r is a front runner in digital transformation, motivated by our ambition to offer the best products and services to support the needs of our customers. We continue to optimise our business operations, such that we can insure our customers in a way that contributes to a fair and sustainable society. Our ongoing partnership with Keylane is the outcome of close cooperation and support. SaaS technology from Keylane provides new opportunities for us to focus on our core business and growth ambitions." commented Jaap van den Hoek, Manager IM income protection at a.s.r.
"Keylane is proud to be a technology partner for a.s.r and empower their digital transformation. We collaborate closely with a.s.r. to deliver the best setup to enable a smooth transition of their Loyalis income protection portfolio to Keylane SaaS. In a highly regulated and competitive industry, we are dedicated to support a.s.r.'s business goals with robust and proven SaaS technology solutions which deliver strong performance and business continuity." added Christoffel van Riet, Executive Director Life & Pension Benelux at Keylane.
For more information contact marketing@keylane.com or get in touch with one of our local offices.
---
About a.s.r.
ASR Nederland N.V. (a.s.r.) ranks among the top three insurers in the Netherlands. a.s.r. offers products and services in the field of insurance, pensions and mortgages for consumers, self-employed persons and companies. In addition, a.s.r. is active as an asset manager for third parties. a.s.r. is listed on Euronext Amsterdam and is included in the AEX index.