Unveiling TKP's Pensioen's tech transformation at the Liv & Pension conference
We're excited to announce our sponsorship of this year's Liv & Pension conference, taking place on September 13-14 in Copenhagen. Liv & Pension stands as the pinnacle gathering for Danish life and pension industry professionals to engage in insightful discussions, exchange ideas, delve into emerging trends, and draw inspiration from their peers.
At the conference, our customer, TKP Pensioen, a prominent player among the top three in the Dutch pension administration market, will take centre stage to share their remarkable journey of technological transformation. TKP serves 17 pension funds and approximately 4 million participants. TKP will move from their current systems to a unified end-to-end SaaS platform, powered by Keylane Plexus as multi-client pension administration platform. This migration is related to the introduction of the new pension law in the Netherlands.
This visionary step toward digitalisation emphasizes TKP's commitment to prioritise what truly matters – delivering online and personalised services for participants and employers, enhancing and renewing their digital pension platform, and automating processes and workflows with standardised products to minimise costs for their customers as much as possible.
TKP's strategic decision to outsource their IT systems enables them to leverage the advantages of a SaaS platform, while also relieving them from the resource-intensive responsibilities of IT operations and maintenance. Furthermore, by capitalising on the Plexus platform's remarkable scalability and configurability, TKP will be well-positioned not just to meet future customer demands, but also to swiftly adjust to the ever-changing industry standards.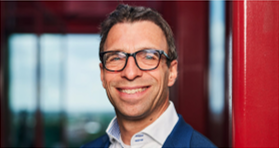 Don't miss the chance to learn about TKP's pioneering approach to their technology transformation journey on September 14, from 15:05 to 14:50, under Track 2: Customers – Digitalisation and Product Development.
Jonathan Koopmans, CTO, TKP Pensioen
Anticipation builds for two exhilarating days brimming with invaluable industry insights and the exchange of knowledge. We look forward to seeing you.
---
More information
Please visit TKP Pensioen's website to find out more about their organisation and services.
About Liv & Pension
For nearly two decades, this conference has held a distinct position as a unique gathering, exclusively centred around the Danish life and pension industry. Beyond exploring industry trends and digital transformation, this year's focus turns to the turmoil and uncertainty pervading financial markets, along with the rising tide of customer expectations. Customers anticipate their pension providers to navigate the path of sustainable and ethical investments, while simultaneously ensuring profitability. Coupled with this is the demand for efficient, user-friendly, and top-tier customer service, reinforced by self-service options.
For more information about the conference and to register, please visit Liv & Pension.