We are very grateful to Europ Assistance Group for inviting Keylane to participate in various discussions about the future IT landscape of Europ Assistance.
It is our ambition to build out the recent successful implementation of our insurance platform Axon for Europ Assistance Belgium and to become be a preferred partner for Europ Assistance (EA) in realizing its goals to deploy state of the art technologies that fit EA's architecture principles and business objectives across multiple EA entities and geographies.
---
We are Keylane
At Keylane, we develop, implement and run our Axon SaaS platform for Non-Life insurance companies. We have harnessed more than 20 years of experience to become an industry-leading SaaS platforms provider. We offer reliable, highly-configurable platforms with a standard core to non-life insurance and life and pension businesses. These are delivered by our dedicated experts to optimise your processes, unburdening and empowering you to become agile and future-ready.
Our goal is to empower the insurance and pension industry to transform through technology. How do we do that? By "flipping the triangle", which simply means we enable you to focus your time and energy on customers rather than the engine room powering your operations: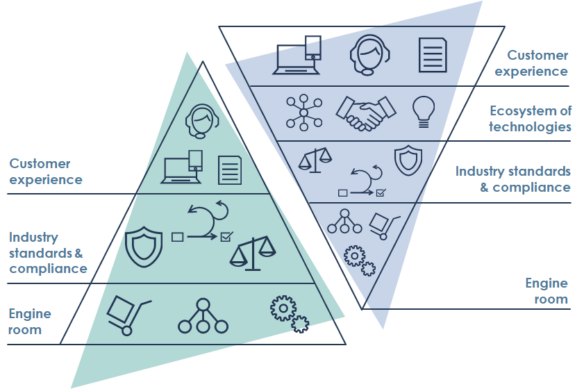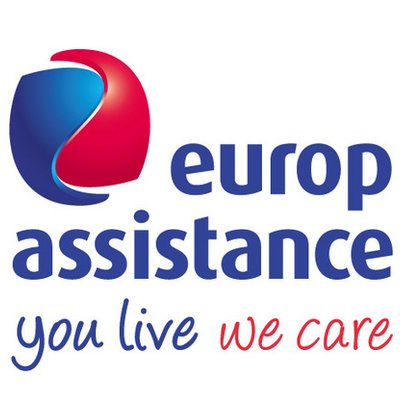 Why Keylane may well be the best partner 
for 
Europ

Assistance?
Keylane is the leading SaaS provider in insurance and pensions

 

Clear Total Cost of Ownership (TCO) based on an inclusive SaaS fee

Keylane empowers

Europ

Assistance to take control of their business

 

Extensive experience & strong track record in implementation and migration



---
What do our clients say?
At Keylane, we've helped hundreds of customers implement solutions that deliver these outcomes. Below is a selection of businesses we have had the privilege to guide on their path to digital transformation.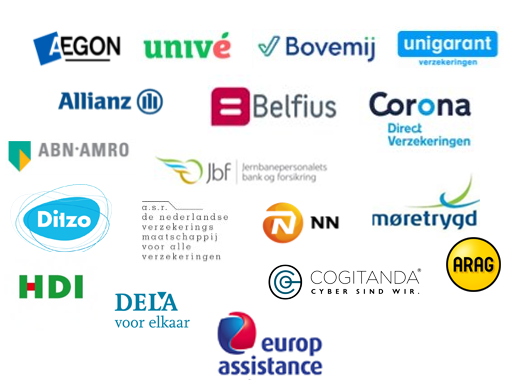 See here the story of "Filip van de Velde", Business Coordinator Core Insurance Renewal at Belfius insurance.
Contact person at Keylane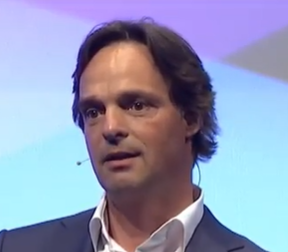 Floris van der Kolk
International Sales Director
M +31 6 542 459 41
E floris.van.der.kolk@keylane.com
LinkedIn: Floris van der Kolk
---
SaaS platform
Our standard delivery model for Axon is SaaS, which the overwhelming majority of our customers use, either from the beginning or after switching at a later time.
The highlights:
Best-in-class services with high availability
Reduces internal IT cost
No maintenance worries
Easily expandable capacity, scalable
Compliance: Keylane takes on full responsibility as well as the costs, assuring compliance to country and/or EU specific regulatory requirements that may affect Axon or the use of Axon, and that all data created by Axon required for legislation and/or Solvency II reporting are available
For more information, please go to our Software-As-A-Service page.
---
Axon application
Axon is a fully integrated web-based policy and claim administration solution for insurance companies that is built to meet the demands of today's insurers.
Axon supports front, mid and back office processes throughout the entire life-cycle of a policy and a claim in an integrated system and through all channels (customer, intermediaries & business partners, internal employees).
Chain integration, data entry at the point of sale and modern technology form the basis of a future-proofed service orientated architecture. Axon is configurable by the business: IT knowledge is not necessary for configuring insurance products.
The graphic overview to the right shows all Axon modules:

---
Plugin layer
Functionality, customisability and adaptability are core, in-built features of our Axon platform. This means we update it regularly and extend its functionality as per your needs, and the changing requirements of your policyholders and the industry at large. You need not worry that our Axon platform will become obsolete, and we won't be calling you to sell you the same-but-better platform in a year from now. Your Axon platform will always be the latest and greatest version, and with our extended core functionality, we can offer you limitless integrations to further enhance your products and services.
Key features:
Rebuilt plugins
Build Your Own Plugins
Regular Updates Won't Break Your Plugins
No Limitations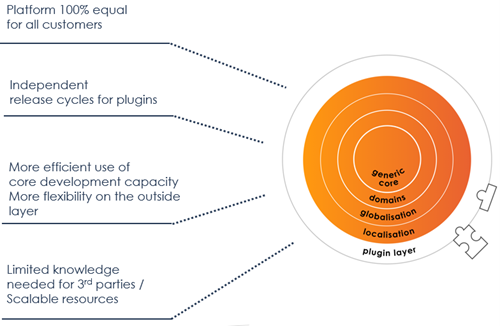 ---
Supported insurance and service products
The product definition system in Axon is built such that all EA's insurance and service products within Axon are 100% configurable. The configuration of these products is done by defining reusable building blocks (such as general insurance information, the start date or an interface to an external data source) and selecting which of these building blocks are applicable for certain products. The advantage of this approach is that all types of products, both private line and commercial, are possible.
Aligned with the principle described above, Keylane applies the following approach to support the data formats, interfaces, legislation, habits and customs around insurance for that country.
Configurable functionality/processes in base system rather than country specific logic.
Country specific interfaces over customised interfaces.
Multiple languages, multiple currencies, multiple companies and Omni-channel.
---
More information about Axon
With Axon, we aim to foster trust and empower lasting partnerships by providing an all-in-one SaaS platform that ensures a 24/7 uptime for our customers. And, to stay true to our promise of unburdening our customers at every opportunity, we provide and implement continuous upgrades at no additional costs, guaranteeing that our customers are able to comply with the latest rules and regulations. Coupled with our commitment to backwards compatibility, you have a partner you can rely on with a platform that always delivers.
---
More information about Keylane
As the leading European supplier of robust, highly configurable and customer-centric SaaS platforms to the insurance and pension industry, Keylane offers solutions that optimise today's business processes, unburdens our clients and empowers them to be future-fit and agile.
Headquartered in Utrecht in the Netherlands, Keylane employs over 750 people and delivers services to over 225 insurance and pension companies across the Netherlands, Belgium, Germany, Denmark, Norway, Switzerland and the Netherlands Antilles.
For more information about Keylane, click here.