Computable: Legacy paves the way in Europe for Keylane
Software provider for insurance and pension companies completes its rebranding – By Rik SandersJanuary 2016 – Recent changes at Keylane entities Actuera, Quinity and LeanApps have led to them now operating under the Keylane name. Following this rebranding, the company, which has its headquarters at Maliebaan in Utrecht, will now continue to consolidate its position as an SaaS supplier of pension and insurance software in Europe. The bar is set high: to achieve a top position in this market. Supported by investment company Waterland, Keylane is primarily seeking to expand in the Benelux, the United Kingdom, Germany and Scandinavia.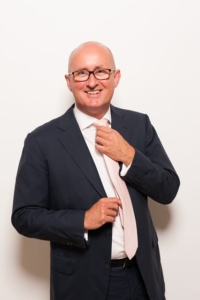 Ronald Kasteel
Keylane started operations in 2012. In this year, explains Keylane Executive Board member Ronald Kasteel, private equity holder Waterland acquired a majority stake in Actuera, a software provider for the pension sector.
In 2014, the strategy was refined with the aim of becoming a leading European company for the provision of pension and insurance software. Kasteel: 'This is Europe in the sense of the Benelux, the United Kingdom, Germany and Scandinavia. An analysis of the market revealed major opportunities for growth in these countries. There are a large number of insurance companies that are aiming to move away from legacy systems in favour of standard solutions. While this is happening in other countries too, the insurance companies have the most financial pull in our 'core area'. The chance of success is greatest here.'
Another factor to consider, Kasteel states, is the fragmented landscape of suppliers with proven standard solutions. He expects that the supply side of things will be consolidated through takeovers in the next few years. Keylane has already made a start with the support of investor Waterland. 'To become a major player in Europe with regard to providing support for customer business processes, Keylane first had to carve out a strong position in the software market for life insurance, non-life insurance and pension solutions,' he explains.
'In 2014, we fine-tuned our portfolio in the Netherlands through the acquisition of Quinity for non-life insurance software and LeanApps for life insurance software. We also added Artena to the portfolio for pension communication and planning. This was augmented by the acquisition of the Swedish software provider Mantacore for customers in Sweden, Finland and Norway.' (The takeover of GENEVA-ID, a German supplier of software for the insurance industry, was completed at the end of 2015. RS).
Roots
The three core businesses acquired – Actuera, Quinity and LeanApps – have company histories that go back much further than Keylane and its founding date of 2012. Capelle aan den IJssel-based Actuera, for example, began operations nearly thirty years ago in 1986. The company produces software for company pension funds, business sectors, pension providers and pension insurers, grows at a steady pace and is adept at attracting overseas customers, e.g. the General Pension Fund of the Netherlands Antilles. Actuera is one of the oldest partners of Progress and its OpenEdge development platform. In 2006, the company undergoes a management buyout with the support of Main Capital Partners. In the years that follow, work begins on the migration of the software suite from a Progress to a Microsoft .NET environment.
Quinity, based in Utrecht, focuses on the non-life insurance sector. It is set up in 2000 by four ex-consultants of Ernst & Young and an employee of TPG (a customer of Ernst & Young) – a quintet from which the name Quinity is derived. The consultants recognise that there are too many bespoke solutions in the world of finance, whereas it is possible to develop standard functionality for procedures such as quote processing, policy administration and premium payments. They also see the potential of the Java platform as an alternative to the client/server technology that is prevalent at the time, and believe that the future lies in internet-based technology and standard solutions.
As Ernst & Young is not the right environment for this type of idea, the quintet develops a model for web-based, business-critical e-commerce applications and founds a company on this basis. The first income is generated via secondment operations. After Royal Nederland (a precursor to Allianz) is acquired as the fledgling company's first customer, the real work begins. Quinity is successful with its web-based solution for policy and claims management replacing the legacy systems used by various insurance companies.
As befitting an IT company, LeanApps finds its start in a garage (!) in Barneveld in 2001. From the beginning, the three founders want to operate as an international supplier of policy management software for life, pension and funeral insurers. However, it first has to consolidate its position in the Netherlands. The trio first works at This (Ten Ham Information Systems), a supplier of standard solutions for the insurance and pension sector and care facilities, but ultimately leaves, in part due to dissatisfaction at the plans to list the company on the stock market. This files for bankruptcy in 2001 and LeanApps takes on the maintenance activities for a number of customers. In 2012, the company, which is now headquartered in an office in Naarden, announces that it is time to expand abroad. The first country is the United Kingdom, birthplace of the insurance industry.
With support from investment company Newion, which becomes a minority shareholder of LeanApps in 2002, an all-new application based on the Universal Life calculation model is built in Java. This is a technique for calculating premiums whereby the components of an insurance policy – savings, risk and fees – are separated from one another rather than being calculated as a whole. LeanApps Life starts as a backend solution for managing insurance policies. The application is offered as an online solution in an early stage of development.
Taking the necessary amount of time
With the acquisition of these three software companies – and supplemented by Artena and Mantacore – Keylane now has a firm basis upon which to pursue its ongoing expansion in Europe. The individual company names will be retained for the time being; Keylane has scheduled a year for integration operations and migration to a single organisation and company name. Kasteel states that the decision was made not to use one of the names of the acquired businesses as the new company name due to the fact that Keylane is already well-known abroad and among customers and is already used in reports published by research firms Gartner and Celent.
The company's customer base includes a.s.r. (life and some pensions), NN Group (life), Reaal (non-life), Univé (non-life), Aegon (non-life) and Syntrus Achmea (pensions). In the Netherlands, where Keylane is the market leader, there are still sufficient opportunities for cross-selling to existing customers. Kasteel also expects to be able to offer solutions to new customers. However, the key to future growth is in markets abroad. 'We have a lot in the pipeline in every country. Insurers and pension companies are due for an overhaul. They often still work with fragmented, complex solutions with a single administration system per product. The focus is on customisation, in a wide range of languages with various technologies and driven by a mainframe with high maintenance requirements. Product rationalisation is certainly needed in a market where there were no standard applications until a few years ago.'
The Keylane director is convinced that opting for standardisation is more efficient and ultimately cheaper for the insurer. 'One only has to consider how much money companies lose in ensuring that their systems comply with legislation. To our mind, it would be better to use a standard suite, because the investment that a software provider would need to make would be distributed across multiple customers. The operational costs for standard software are also lower. Furthermore, it is quicker to launch products onto the market, especially in conjunction with the SaaS environment that we offer.'
At the finish line
Kasteel considers the American software provider Guidewire, which is listed on the stock market, to be a main competitor. The firm is aiming to make inroads in the European market with its solution for the management of non-life insurance policies. In the pension sector, Keylane will go toe to toe with smaller local businesses, such as Itello, Edlund and Schantz in Scandinavia. The latter is also currently making efforts to gain a foothold in the Netherlands. Schantz is also actively involved with life insurers, as is the Belgium-based BSB. England has pension administration software provider Aquila, not to be confused with the Dutch company of the same name that delivers customised solutions to non-life insurers.
Market players such as Unit4, Anva and CCS operate more in the lower segment and have more to do with intermediaries. Kasteel does not consider Germany-based msg/COR AG to be a real competitor as the supplier has strong ties with SAP. In addition, although major corporations sometimes contract system integrators to design customised SAP solutions for them, in practice this is a prolonged, expensive process. Kasteel subtly notes that Keylane provides proven solutions and has a track record of well-implemented projects and migrations. 'It sounds good to work with those big names, but trophies are not handed out until the finish line.'
One major advantage of Keylane's service, he states, is the localisation per domain. The company uses standard architecture (including for portals) which is functionally enhanced with local specifications, e.g. for legislation purposes. 'Our non-life insurance software, for example, has to be able to 'speak' with the 'local' vehicle registration authority of the respective country in order to exchange identification data. As a result of this enhancement, we are also able, by way of example, to convince customers in Scandinavia to switch to the Dutch solution instead.'
Focus
Kasteel considers the Netherlands to be a pioneer of forward-looking solutions. Measures for the functional enrichment of the software are performed in the Netherlands in consultation with customers. For the development of additional tools, Keylane utilises the capacity of partners such as Cognizant and coMakeIT from India and the Romania-based Yonder. Keylane also works with partners for implementation strategies abroad, such as Cognizant for non-life insurance software.
Keylane pursues a 'buy and build' strategy. The essence of the takeovers is to acquire customers and the knowledge and expertise of people, states Kasteel. 'We are primarily focusing on markets abroad. Any Dutch acquisitions should be genuinely complementary to our existing range of services.' Expansion into other sectors such as the banking industry – where there is a significant need for standard solutions – is not something that the company will simple rush into. As Kasteel points out, these are entirely different markets with their own laws and regulations and specific circumstances. 'This is already plain to see in the sector in which health care insurers operate. While we are active in this field on a small scale, it takes more than two shakes to introduce our products to this market.' Although Keylane does indeed offer its services to funeral insurers such as Dela and Monuta, they fall within the life insurance sector.
Over the coming months, the expansion of Keylane's range of products will be geared towards big data and analytics, reinforcing digital sales channels and mobile applications. Ultimately, insurers aim to achieve the same things as companies in other sectors, Kasteel states. 'More cross-selling, more interaction with customers, more self-service, automatic processing between the front office and back office, the rapid introduction of new products, better insight into current data, that sort of thing. We can help them with this. Traditionally speaking, our back office systems are second to none, and we are continuing to invest in front office tools, such as in the field of integrated portals. To make straight-through processing (STP) possible, we upgrade the IT landscape for our customers. The following step is what they are able to do with their data.'
A different dynamic
The reduction of costs is also an important factor that motivates insurers to upgrade their IT landscape. They realise that they need to keep their range of products limited. This means that the underlying ICT can be set up in a more streamlined way, which in turn leads to lower operational costs. However, a decision such as this is certainly not without risk. It is made after a long tender period based on detailed implementation strategies, explains Kasteel. 'What complicates the matter is not so much the obsolete programming languages and legacy software databases, but more the fact that data is altered and deleted. It is often the case that various product types have to be streamlined, particularly for life insurance and pension policies, in order for them to be transferred to the new software. We have a tried and tested, highly specialised data migration strategy for this.'
Kasteel has now been working at Keylane for the past year and a half. Prior to this, he managed Ordina for several years. The dynamic at a service provider is different to that of a software company, he notes. 'At a company such as Ordina, everything revolves around the ongoing search for projects and individual contracts for people. At Keylane, standard solutions are the basis for operations. The bulk of our business is software that is used by a customer for years at a time. This makes the business more stable than at a service provider, and gives peace of mind to us all.'
This article previously appeared in Computable Magazine, issue 49, number 1, January 2016. This column reports on companies that have played a prominent role or are set to have a major influence in the Dutch ICT sector.
Keylane, Artena and Mantacore
Keylane now has just over 100 customers evenly distributed across the three domains of non-life insurance, life insurance and pensions. The company's total turnover is approximately EUR 50 million. Growth of around 10 percent is expected this year. Keylane employs over 500 members of staff. Approximately half the team works in software development and R&D.
Artena was founded in 2003 in The Hague. After starting out as a consultancy firm, the decision was later made to develop web software for pension communication and management purposes.
Sweden-based Mantacore started operations in 1993. The company primarily focuses on the development, marketing and implementation of policy and non-life insurance management software.