Discover how SaaS can help your business thrive
We can all see the life and pension industry is changing rapidly. Consumers today expect service to be instantaneous, experiences to be seamless, and processes to be simple. To support these customer demands, technological infrastructure should be agile, cost-effective, and easy-to-use. Businesses need to continue to be compliant and prepare well in advance for legislation updates in the future.
Being ready for that means laying strong foundations today, embracing digitalisation and technology in the right way to reap the rewards tomorrow.
This exclusive whitepaper discusses the changing landscape, and explains the powerful tools you need to thrive within it. From delighting customers, to developing flexible operations, and staying compliant, unlock the future of life and pensions today.
Get started with Keylane: As an industry-leading SaaS platforms provider, we have the experience you can rely on. By enabling life and pension insurers to place the consumer at the heart of their business, SaaS can delight consumers, reduce churn, and help companies get ahead.
More information
Ready to unlock tomorrow? Contact our team to find out more about how Keylane can help empower companies with the power of SaaS. Please send an e-mail to marketing@keylane.com or complete our online contact request .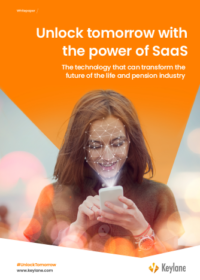 Download the whitepaper
In this whitepaper, we discuss how the life and pension industry could flourish over the next few years by prioritising technology that can boost productivity and efficiency.