Axon has evolved considerably and has been implemented within many of our clients IT architecture. In order to keep this growth going, we have identified the need to start working on plug-in functionality.
It will result in an even more stable core Axon where generic changes can be made that will affect all customers, in addition to the possibility to plug in functionality for individual needs. In this way we can deliver the generic changes monthly, and our clients can add extra functionality when required.
What will this plug-in functionality entail exactly? A short explanation is given below.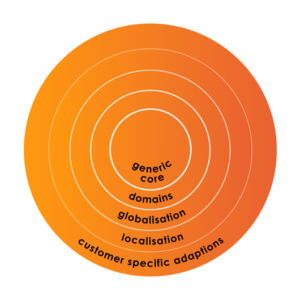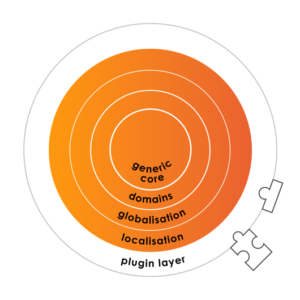 Good for you and for Keylane
As Axon is growing and is being released with a higher frequency, new challenges are also coming up. With every monthly update, it is necessary to check the effect for every individual Axon client. This is due to the customer specific adaptions that are directly attached to Axon. This is a time and effort intensive exercise. With a plug-in layer around the Axon core, all customers can have a 100% equal platform surrounded by their specific integrations. This boosts efficiency and flexibility. Next to the Axon core, there is a plug-in layer with a platform which can be adapted independently from the release cycles of the Axon core. This makes the new interfaces and implementations with third parties easier and faster to create.
Plug-in platform
On the plug-in platform it will be possible to add extensions to your Axon core. This could be an extension that is already available or that you will create yourself and is delivered by a third party or by us. Independent from the Axon code, the plug-in layer will include a standard structure for developers including SOAP and REST calls. A deep knowledge of the Axon Core is not needed to develop an extension and the releases of the extensions can be independent from the general Axon releases.
Plug-in applications
Currently we are creating plugins ourselves that can be used by our customers. Examples are plugins for the integration with ValueChecker and RockEstate.
ValueChecker is a solution that directly gives the replacement value of a product even if the product itself is no longer available. This saves time for claim handlers, reduces payout costs, and is transparent. It can return a value but it can also support direct replacement. RockEstate is a solution that gives insight on flood risks. For real estate insurances this can be important information when calculating premiums.
We are currently investigating and analysing other ecosystems to be added soon such as dynamic pricing, cyber risk analysis, customer journey analysis and SIAM.
Roll out
The plug in architecture is rolled out in phases to add new eco partners on one hand and replace existing, customer specific, adaptions/integrations on the other. This is done continuously driven by:
Requests from our customers
Eco partners with potential
New Axon implementations (where we switch from bespoke interfacing to creating plug in points)
Country layer development (idem)
More information
Would you like to know more or would you like to request a demo? Please get in touch by filling out the request form.